Are you wondering how to clean an oven right now? Perhaps you are staring at an oven with so much burnt on grease and fat build up you are wondering if you will ever get your oven clean again. While there are professional oven cleaning services that specialise in oven cleaning and detailing, you might want to try and clean your oven yourself. In which case, before you start pulling on the rubber...
Read More
Have you opened your oven door and thought for the millionth time 'I must clean the oven'? And it's always when you're about to use the oven that you think about this job. Usually the next thought is 'how am I going to get this oven clean, it is so dirty'? Let's face it, cleaning the oven is not a great job. It usually involves buying some toxic chemical...
Read More
It was a big 2016 for our small family business, and we were especially proud to celebrate 5 years in October 2016, making Oven Perfect the most experienced oven cleaning service in Newcastle. We had an incredibly busy December period cleaning ovens and BBQs all over Newcastle, Central Coast, Port Stephens and Maitland/Hunter Valley areas. As lovely as it was celebrating Christmas with our two...
Read More
Kristof, owner of Newcastle's leading oven cleaning service, Oven Perfect, is excited to announce that he became an Australian Citizen on Australia Day 2016. Six years after leaving his police detective job and his native Belgium for an Australian who is now his wife, Kristof has achieved his goal- an Australian Citizen. During his time in Australia so far Kristof has married his...
Read More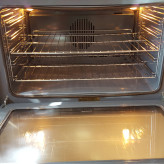 Easy Newcastle Oven Cleaning With Oven Perfect Whether you're looking for some easy Newcastle oven cleaning tips to scrub away the left over holiday cooking or a thorough professional clean, Oven Perfect can definitely assist you. As locals of Newcastle, we understand that everyone has  busy lifestyles and sometime organising a professional clean can be daunting. This article is to help...
Read More