Here are our latest BBQ Cleaning Newcastle Photos from June 2016. BBQ Cleaning is different to oven cleaning in that there are more variables to achieving an outstanding result. You need to consider if your BBQ has rust as well as the materials your BBQ is made from – stainless steel or enamel. In some cases BBQs are too far gone to achieve good results and it is better to invest in a new...
Read More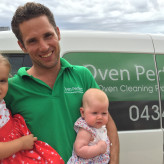 Merry Christmas from Oven Cleaning Newcastle Kristof and his family would personally like to extend the seasons greetings and we hope you have a safe and happy holiday this Christmas. Kristof has worked extremely hard cleaning ovens and BBQs in Newcastle and the Central Coast. This was especially during the lead up to Christmas to make sure you all have sparkling clean ovens. Oven Cleaning...
Read More
With the weather warming up it's time to clean up your BBQ for summer and who better to call on to clean your BBQ than Oven Perfect? Oven Perfect are more than just oven cleaners, we also clean barbecues, from small 2 burner BBQs through to the large built in 6 burner BBQs. We also clean Webber Qs and the barbecues with Wok burners. Whether you live as far down as Gosford on the Central...
Read More
Oven Perfect, the Oven Cleaning Professionals, not only clean domestic ovens in the Newcastle and CentralCoast areas, but we also provide BBQ cleaning services. Whether you live as far down as Gosford on the CentralCoast or as high up as Port Stephens or out to the Upper Hunter areas, we are happy to come and clean your BBQ so it is sparkling clean for the summer months. At Oven Perfect we find...
Read More
We not only specialise in oven detailing, we also clean and detail BBQs, stovetops, rangehoods and microwaves. Our trained staff are experienced with most domestic oven and BBQ models.
Read More