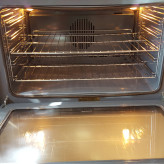 Easy Newcastle Oven Cleaning With Oven Perfect Whether you're looking for some easy Newcastle oven cleaning tips to scrub away the left over holiday cooking or a thorough professional clean, Oven Perfect can definitely assist you. As locals of Newcastle, we understand that everyone has  busy lifestyles and sometime organising a professional clean can be daunting. This article is to help...
Read More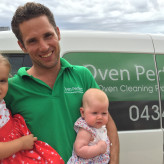 Merry Christmas from Oven Cleaning Newcastle Kristof and his family would personally like to extend the seasons greetings and we hope you have a safe and happy holiday this Christmas. Kristof has worked extremely hard cleaning ovens and BBQs in Newcastle and the Central Coast. This was especially during the lead up to Christmas to make sure you all have sparkling clean ovens. Oven Cleaning...
Read More
To see our latest Newcastle oven cleaning photos click 'read more'. This domestic oven cleaning service was done in Hamilton and our customers were thrilled with the results. They said they couldn't believe how good their oven looked after our professional cleaning service. Our customers said they thought their oven would look clean, but after our local oven and oven glass...
Read More
We wouldn't be surprised if you have had our oven and BBQ cleaning experience in your home by Kristof over the last 4 years as we have such happy customers they can't help but tell their friends about our Newcastle oven cleaning service. Kristof gets told every day how happy his customers are with their oven cleaning service or their sparkling BBQ. Some of our customers even take the...
Read More
Have a look at our latest serviced cleaning BBQ photos from Oven Cleaning Newcastle (Oven Perfect). This cleaning BBQ job was done by Kristof who has been providing a professional BBQ cleaning service in Newcastle for the past 4 years. Oven Cleaning Newcastle isn't all we specialize in, especially with the weather warming up now is the perfect time to get your BBQ cleaned in time for...
Read More
It's important to know you are getting an outstanding oven clean as well as the highest customer service when you experience oven cleaning Central Coast or Newcastle. Kristof has been complimented on not only the quality of his oven cleaning but the professionalism and high customer service he offers his customers. Kristof often goes above and beyond simple oven cleaning and will fit new...
Read More