FAQ's
What can Oven Perfect do that I can't do myself?
Oven Perfect are more than cleaners, our trained staff have worked with many types of ovens and know how to get to the places you can't. Our oven detailing requires removing oven doors, the oven glass (in certain models), all internal parts including removable side panels and the light cover. We can even replace blown light globes, broken light covers and oven seals. Our oven detailing leaves your oven in showroom condition. Read our testimonials to hear how outstanding our results are. We will also give you specific oven cleaning tips for your oven to ensure that you can maintain your oven while we're not there!
What is the oven cleaning process?
Oven Perfect's oven detailing involves laying down anti-slip mats, removing the door and all internal parts. We then soak the internal parts in a heated tank containing the same non-toxic, non-caustic, biodegradable products we use inside your oven. We completely clean the inside of the oven including behind the back wall, between the glass of your door and then polish the outside.
Can you do repairs?
Yes, we can replace light globes and tighten hinges on the spot. For seals and light covers we can order it and fit it for you when we're next in your neighbourhood.
What oven cleaning products do Oven Perfect use?
Oven Perfect use non-toxic, non-caustic, bio-degradable products. The products are fume free, leaving you free to use your oven as soon as it has been cleaned. Our products are also safe for your family and pets.
Can Oven Perfect clean 'self-cleaning' ovens?
Yes, our trained staff know how to clean ovens with self cleaning components without interfering with the technology so you can still 'self-clean' in between Oven Perfect visits. Even with the best oven cleaning tips from Oven Perfect, we believe we can clean the self-cleaners and make them feel brand new again!
What's the difference between oven cleaning and oven detailing?
Oven Perfect are oven detailers. We specialise in cleaning the things that you cannot get to with specialised products and a cleaning system that achieves outstanding results.
What other items can Oven Perfect clean?
We also clean and detail BBQs, stovetops, rangehoods, microwaves, and steamers.
What are some oven cleaning tips that you recommend? 
We recommend making sure that your oven is as clean as possible by using household products. Make sure they are non-toxic so that you don't harm your family. We have an oven cleaning tips section here on our site for you to read.
You Won't Believe our BBQ and Oven Cleaning Services!
We also clean and detail BBQs, stovetops, rangehoods, microwaves, and steamers. Just take a look at some of our previous clients' BBQs and ovens to see for yourself!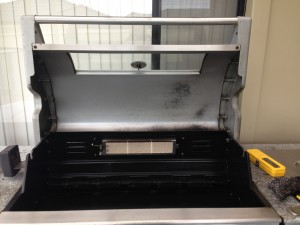 'after' BBQ cleaning photo
For commercial ovens, please ring us directly for a free initial consultation.