Oven Cleaning Newcastle; Merry Xmas!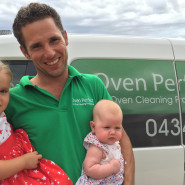 Merry Christmas from Oven Cleaning Newcastle
Kristof and his family would personally like to extend the seasons greetings and we hope you have a safe and happy holiday this Christmas. Kristof has worked extremely hard cleaning ovens and BBQs in Newcastle and the Central Coast. This was especially during the lead up to Christmas to make sure you all have sparkling clean ovens. Oven Cleaning Newcastle, it's never as fun as it is during the holiday season.
This is Kristof's 4th Christmas cleaning ovens for Newcastle residents and it's safe to say that each November/December is busier than the last. Kristof is looking forward to a few days rest after such a busy period. However, he will be back to cleaning ovens and BBQs before the New Year and January is getting very full with oven cleaning and BBQ cleaning bookings. So if you have been meaning to get your oven cleaned don't forget to book your professional oven clean or BBQ clean by calling Kristof on 0434 512 344 or send us a website enquiry.
Oven Cleaning Newcastle Celebrate Their Fifth Year!
Thank you Newcastle and Central Coast for all of your support and we look forward to continuing to grow our small family business in 2016 which will be our 5th year trading as Oven Perfect, The Oven Cleaning Professionals.
Oven Perfect are a professional, friendly and reliable Newcastle Oven Cleaning Service working throughout Newcastle, The Central Coast and the Hunter Region so contact us now to organise your next oven and bbq cleaning service!