Oven Perfect at the Central Coast Home, Leisure and Lifestyle Expo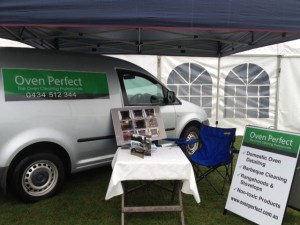 Oven Perfect attended our first expo last Saturday and Sunday the 4 and 5 March. Oven Perfect wanted to share with residents of the Central Coast our oven and BBQ cleaning service.
We took the van for people to see the tank in the back, as well as lots of before and after photos. It was great telling people how we detail their oven by disassembling the entire oven. There are no hard to reach places that we can't get to with our domestic oven cleaning! It was even better showing local Central Coast residents how we can make their ovens look like new again. This photo is from our oven cleaning stand at the Central Coast expo.
We've even been put to the test this week by some new customers who wanted to book us in after seeing us at the Central Coast expo. Needless to say, one couple were so impressed, the insisted we did their mother's oven too!
Keep your eye out for Oven Perfect attending the Newcastle Home, Leisure and Lifestyle Expo in July!